The best wire furniture pioneers would have to be Harry Bertoia and Charles and Ray Eames. With their three minds put together they ended up coming up with the most iconic and unique wire furniture pieces that were realized in the mid-last century and even today they are still sitting in the 'must have' pile. In recent times we have seen a resurgence in wire furniture and all the different styles and flexible forms that it affords have seen this type of décor phase broaden in strike and appeal in many homes.
From the functional pieces down to the aesthetic improving accessories, from the outside to the inside, the wire work form of furniture has grasped at our imaginations in many different home-maker rooms and it might just become an addiction.
Style and creativity
One item that is soaring with sales and is almost always sold out everywhere is the Eames replica wire chair. It has molder padded seats with a sleek sculptural form and brings total class to any dining table. It has powdered black coating and the black cushion just adds the last bit of style. A very confident and stylish chair that has its geometry created by the wire to give it an eye-catching complexity.
Relax House Fusion Chair
This wire chair has a very recognizable silhouette and is made from cross-woven wires that are positioned all on a bent wire with a beautiful wood leg base. The look is finished with a soft black seat pad for the extra added comfort.
Outside wire furniture
Wire furniture can fit right into the outside world and can go from classic to confident and even to fun. If you have a pool in your backyard, consider the wire three piece setting that can give off the modern sleek look while also being able to pull off the retro look also.
Furniture with a touch of retro saucer setting
The uber balcony setting uses wire painted white all within a curled design with white and black polka dot cushions for comfort. This is a great feature to add to your balcony or garden to enjoy your cup of tea. It is a small compact setting that works well in small spaces.
Wire stacking chairs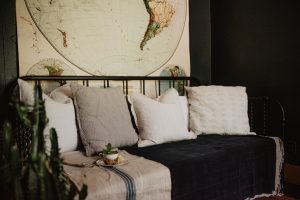 These are for outdoor use with a contemporary and edgy design. The white wire stacking chairs have an airy design and soft curves that show the graceful view of the chair well. It is very light touch furniture and given they stack well they are very practical.
Spence and Lyda Tio wire chair
This is a well-respected brand and the Tio chair has a contemporary wire design and is stack-able so you can move them around with you easily. It has a fresh and simple design that make it easy to adapt to many different spaces.
Happy tone pieces
A feature of wire furniture is the Happy tone that the furniture can create. Powder coated of color and simple pieces that are very versatile like side table offer an affordable and pop into any space. They give off the feeling of lightness without the dominating solid form other types of furniture have. By allowing you to see right through the furniture gives a light feeling and a gentler impression.
Wire furniture is growing in trend and we are seeing it more within the world of modern and contemporary. Wire furniture offers so much potential and the looks you can create are endless and can set the right mood in any home, anytime.