There are many different types of inground pools and the most popular ones in order are vinyl-lined, concrete and fiberglass. There are also pools that are aluminium or steel walled but these are only often found in small pockets of the country. Depending on your pool type and water situation at home, you may need to invest some time into researching for a new rainwater tank pump and the potential costs as rainwater tank prices can be quite high.
The concrete pools are custom-built and can be made to any size or shape. These are often known as Shotcrete pools or Gunite as the concrete is shot from a gun onto reinforced walls. Once the concrete has cured it will either be plastered smooth, tiled, painted or a textured aggregate surface. Only a small percentage of concrete pools are formed and poured like a house slab, this technique is called structural concrete.
Vinyl pools are made from a performed flexible liner that comfortably fits into the hole and attaches to a wall with reinforced with steel, non-corrosive polymer and aluminium. Vinyl pools are often rectangle or L shaped as there is also free-form liners available. The best part about these is the fact that vinyl liners come in many different patterns and colors that suit anyone's personal preference or pool theme.
Fiberglass pools are molded into a giant bowl shape. It is set into the hole created by a crane. This means these pools can be installed quicker than the other pool types. It can take as little as three days from start to finish. They come with a super-smooth gel finished that is stain resistant and very durable. Fiberglass pools are non-porous, so they use less chemicals and don't create as much algae.
Check with Zoning
Inground swimming pools are subject to zoning and building regulations like other different home improvement renovations. You must apply for a building permit and wait for the approval in order for work to begin. Most approvals are pretty straight forward it may just mean you need to move it further form the fence line or move it more to one side. The zoning and building rules will differ from town to town but you must be in certain distances from the pool to property lines, well, sewer lines, wetlands and septic tanks. There are now rules that all pool inground or above ground are required to be fully fenced off, so this is something else to take into consideration when installing a pool.
Site the Pool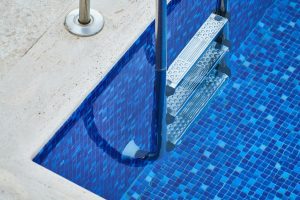 Finding the right spot for your inground pool is just as important as the actual pool as there are a few things to take into consideration when it comes to pool placement:
Sunshine
Use the free sunshine to your advantage by choosing a location that is open to the sun and steered well away from trees. This will warm up the water and reduce the number of leaves that end up in the pool.
Blocking the breeze
Building a pool that is located in a windy location increases the water evaporation which will see you constantly topping up the pool to maintain a good level. You can create a board fence or by planting large thick tress around the pool to break the wind.
Circulation System
The circulation system of the pool is made to keep the water clean. It uses filtration and sanitation. The pump draws water from the bottom of the pool drains and send it to the surface through a skimmer which then passes through the filter before it re-circulates.
There are a few items that aren't included in the price of the pool that you may need to consider if you are working to a budget such as:
Outdoor lighting
Pathways
Decking
Landscaping
Fencing
Privacy screen
Outdoor sound system
Patios
Water test kit
Patio furniture
Equipment shed
Shade structure for summer
Pool toys
As you can see, there is a variety of different things to consider when installing a pool. The most important thing is that you do your research and pay attention to every detail.